D-Phil is out!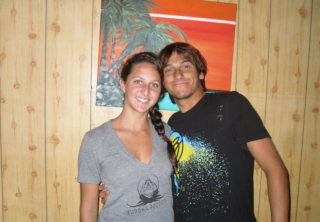 D-Phil and his girlfriend Tonya (Tonya took the photos on the trip)
D-Phil just left so he could compete on the multiple
World Tour
stops. He got a lot of good practice on our trip. We are all cheering for him to do well on the tour. His first stop is going to be Peru, then Chile etc..
Me and the boyz still got a week left in paradise and are going to take full advantage of it! A few Tahiti friends just arrived along with some Canarians. The canary guys are really good and I am super stoked to learn a bunch from there riding!