Puerto Rico is FUN!
The amount of stuff that I get to do in a day here is crazy! I wake up at 5am and don't get to bed till 11pm earliest. From surfing our brains out, training, doing homework at night, being a tourist, eating like crazy and Babby knowing every person in Puerto Rico there is no time for rest. We always get invited over for food, hang out or anything. Every day is a new adventure and so much fun!
Monday we finally got some waves which I was stoked on. Babby took me to one of his favorite waves. We surfed it with just us and one of his friends out for a few hours. There were some ramps and barrels everywhere. No one was filming cause it was raining but the memory will be in my head forever. We then went to a shorebreak spot and I got to see my friend Joe Grodzen from cali.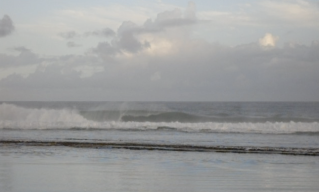 The waves before we got out there. My point and shoot camera :)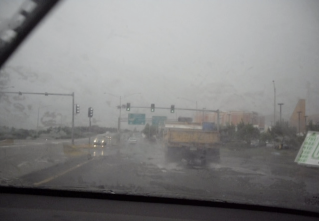 Driving to the shorebreak spot in the rain
Yesterday our friend PJ invited us to use the Jet Ski again to get a few clips. The waves were not the best for it but we all managed to get a couple fun ones! We went to get gas and some stuff happened to the trailer so we had to stay at the gas station for a few hours waiting for it to get fixed. It was great for me because I got to read and finish my Pete Maravich book! Maravich was a freak in basketball and had the best work ethic of his time! Once the trailer got fixed we booked it back to get a few more waves. I didn't get to go again but it was all good just watching my friends BOOST off every section. We came in at night and trying to get the ski on was such a mission but we did it.
Going to the zone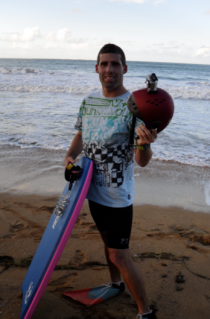 Jorge got the biggest and best airs for sure and captured it with his helment camera to!
This is Pistol Pete! (I just started a new book today more info coming but its sweet and it fits in my board shorts pocket!)
Today was probably my favorite day of my trip! Babby and i got three sessions in, clocked in a lot of water time and got to surf by our self the whole time!!! The waves were double overhead and no one out. It was kind of bizarre to me but a lot of the waves were closing out so it was not that inviting. I got pretty worked and hit the reef by not landing a manuver and cut my leg, babby cut his foot pretty bad. We got invited to go to some outer reef on his friends boat after our second session. I never ever have surfed a wave like the outer reef one in my life but it was a great experience. It would be this big wall, then a barrel, and if you got lucky it would then have this horseshoe lip coming at you and you just hit it! I only got one of the horseshoe ones but was so pumped!
The below shots are just with my point and shoot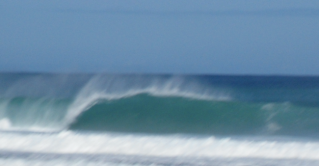 I am leaving tomorrow and know I am going to miss this place a lot! I love bodyboarding all day and then hoping on the plane super exhausted. Thats the goal for tommorow surf my brains out and sleep on the plane! I can't wait to see my AMAZING family, killer friends, and Kylie!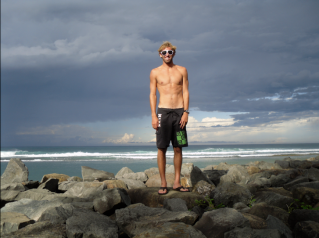 This place is so sweet!! The clouds are amazing!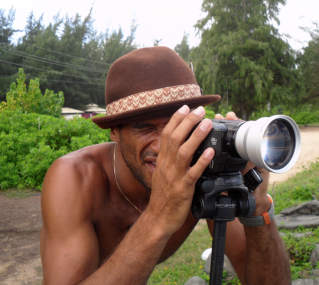 Babby hard at work. He has been BUSY finishing editing his new movie but I will be getting my clips and frame grabs tommorrow and will be sharing them when I get home!!!
Here is the teaser to his video!!
Also
Spider
has a section on there website on me! Check it out!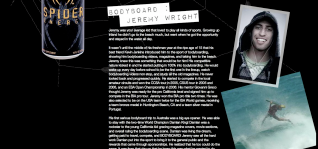 My interview
A shot of me on the homepage of the Website!
My clothing sponsor
RXYM
just did a HUGE update on the team! Check out what they wrote by clicking
HERE
or just read below :)
"Jeremy "Right On!" Wright has done more stuff than we can name this year. Arguably the hardest working pro to come out of CA in a long time. He blogs, You-Tubes his adventures, tweets, facebooks, hustles and still has time to smile and sign a few autographs for the kids down at the beach. He won the Mexico specialty event, cashed his check and picked up a new health energy drink sponsor, Spider Energy Drink (like he needs more energy ;) Then, the following week, he got some epic boards shaped by Oceanside shaping legend, Jimmy Linville, stamped them with Wave Rebel and RXYM logos and booked his ticket to Puerto Escondido to film with Chad Stickney where he's been for over a month. Did we mention he also went to a far away island (that we cannot name) and filmed with Timmy Hamilton for his upcoming film... AND somehow found time to pass all his classes while re-doing his new website? Check it out at www.jeremy-wright.com and follow him at twitter.com/4jeremywright. Go JW."