Its finally here!! WWW.JEREMY-WRIGHT.COM
My long awaited
website
is finally up! Be sure to check it out! You can sign up for my monthly newsletter to get the monthly low down, on the homepage! Browse all the links and check out my sponsors. Shoot me an e-mail on how you like the site! Big thank you to Milo Mitchell for putting in all the hard work and valuable time and Russ Hornbeek for pushing us to DO IT!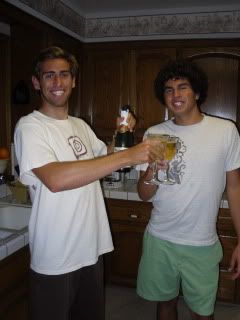 Milo and I celebrating for the launch of www.jeremy-wright.com Thank you again Mizzy!
I am all packed and ready for my Kauai and Oahu. I will be in Hawaii to help with c
amp Anahola
and Oahu for the
Sandy Beach Pro
.
Stoked to get on the road again!
My best friend Kevin stop by and said bye!
You can check out my interview on the RXYM website by clicking this link; http://rxymfashion.com/drupal/teamrider/Jeremy%20Wright